Welcome to the HLSA of the District of Columbia
Get Connected!
If you're not receiving emails from HLSA-DC, you may need to update your contact information in the Harvard alumni database via your HarvardKey account. You can register for a HarvardKey and manage your account at https://key.harvard.edu.
Stay Connected!
We hope you stay connected by attending our events. Have an idea for an event, interested in learning more, or looking to get involved? Please email us at info@washingtondc.hlsa.org.
Stay Healthy!
Like you, we are closely monitoring the ongoing COVID-19 situation. All non-virtual HLSA-DC events scheduled after March 10, 2020, are postponed; we hope to see you in person at a later, healthier, date. If you have any questions, email us at
info@washingtondc.hlsa.org
.
Upcoming Events
FEATURED

2:00PM - 3:30PM Sat 26 Sep 2020 ( Timezone: Eastern )

Please join HLSA for an online book reading and discussion of HLS almna Angie Kim's best-selling debut courtroom drama, Miracle Creek.
Expand your network
Join the only official HLS Alumni LinkedIn Network
With 3,600+ alumni, Harvard Law School Alumni is the fasted growing and only official and secure HLS Alumni group on LinkedIn (open to alumni from HLS degree granting or equivalent programs, students, and current faculty). Join Today!
Virtual Events
Social distancing requirements have introduced an opportunity and need to convene virtually. Check out the

Virtual Resource Library

for

guidance on hosting digital events.

Fall 2020 Update: Harvard Law School announced that the Fall 2020 semester will take place online on June 3, 2020. For more information about this announcement, please see

Dean John F. Manning's letter to students

.
HarvardKey

HarvardKey is a secure login and password to streamline your access to several online alumni tools and benefits.
Visit

key.harvard.edu

to claim your HarvardKey today.

Need personalized help? Contact the HLS HarvardKey support line at +1 617-495-5631 or

alumrec@law.harvard.edu

.
Amicus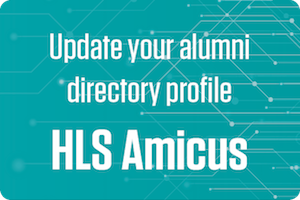 HLS Amicus is a community building tool, featuring an alumni directory, with advanced search and messaging capabilities.
Alumni Feedback
We want to hear from you...
Help us to build a better HLSA of Washington, DC! Let us know what you, as an HLS alum living in DC, would like to see from your local HLSA Chapter. Speaker events, networking reception, casual happy hours?
info@washingtondc.hlsa.org