A Virtual Comedy Show-Slash-Happy Hour
Friday, December 4 at 7 p.m.
Finally, the Zoom event we all need. Please join us on Friday, December 7 for an interactive comedy variety show for HLSA-DC members and guests, featuring interactive polls and (of course!) games specific to HLS alumni.
HLSA-DC is pleased to sponsor this end-of-year gathering for our members and your guests. Registration is required to obtain the Zoom link, but there is no charge to attend.
But there will be a tip jar! It is going to be a difficult holiday season for many families in the region. The Ruthless Comedy Team will be donating their virtual tip jar from our event to Impact Silver Spring's Holiday Toy Drive; we hope you will contribute. If you prefer to donate before or after the show, see below for more details.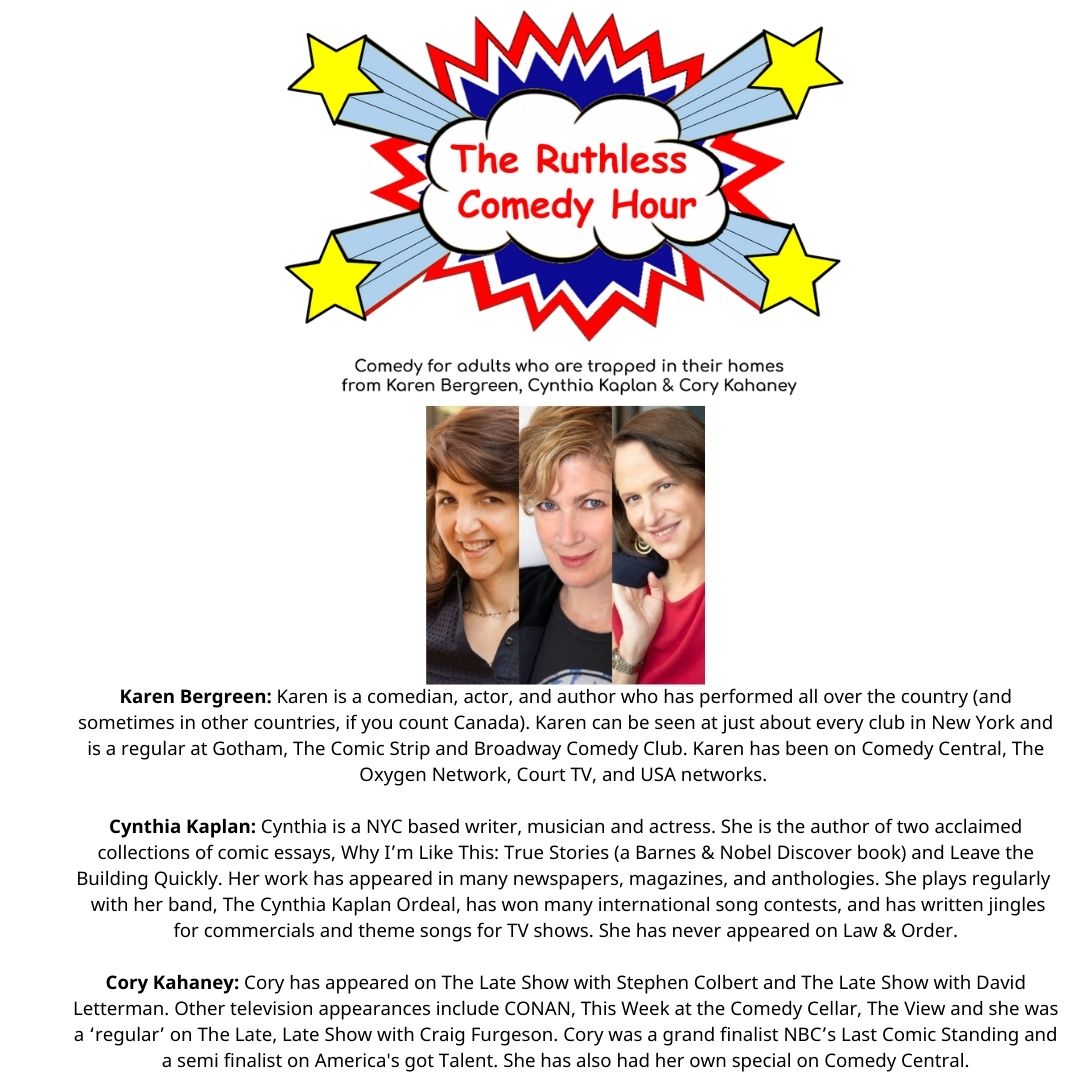 About Impact Silver Spring
: COVID19 has had a catastrophic impact on many vulnerable residents in the D.C. region, including in Montgomery County. Through generous public and private donations,
IMPACT Silver Spring
has given out and facilitated emergency cash assistance and grocery store gift cards to over 1,200 Montgomery County families who have lost work and are struggling to pay rent and feed their families.
When:
TODAY
7:00PM - 8:00PM Fri 4 Dec 2020 ( Timezone: Eastern )

RSVP Here...
Look Who's Coming:
Louis Lopez
Allison Caplis
John Dey
John Dey
CHARLES N. BROWER
International Court of Justice
Bárbara Medrado
K&S
Lester Dally
LJD Consultancy
Janice Gorin
Federal Communications Commission
Michele Spencer
Tom Stanton
Johns Hopkins University
Sharon Burrell
Howard Schulman
None
Brian Christaldi
Retired lawyer
Stan Barg
Atlantic Realty
Richard Ferber
Tony Chan
www.morganlewis.com
Sheela Murthy
Murthy Law Firm
Donna M. Chambers
Richard Emory
Frank Loy
EDF
Marie Park
Anne Hoskins
Sunrun
Donna M. Chambers
Donna M. Chambers
Kathleen Campbell
Robert Okun
Superior Court
Amanda Maisels
Ysabelle Reyes
Robert Okun
Superior Court
Chris Dr. Pauly
Independent scholar and consultant ROL
Vicki Judson
michael goldman
WMATA
Sheela Murthy
Murthy Law Firm
James Tarter
Geoffrey Cook
Andrea Broggini
Manley Williams
Buckley LLP
Lan Mei
Lan Mei
Chloe Hawker
Wiley
Donald Horowitz
Duke University
Michael Winer
robert Perry
retired attorney
Elizabeth Carr
Shayan Karbassi
Karen Shimp
Alina Zagaytova
Marqeta
John Simms
NARA
Divonne Smoyer
Reed Smith LLP
viviana ruiz
Julie Lovas
FDA
Robert Portman
Powers Pyles Sutter & Verville PC
Pam Perry
Freddie Mac
James Lowe
Najatt Ajarar
Jen Mueller
B. Thomas Mansbach
Retired
A J
Brian Christaldi
Retired
Jeanne Smoot
David Falk
Ellen Chubin Epstein
Rob Okun
Frank & Dale Loy
EDF
JESSICA LEFEVRE
Attorney at Law
A. Langford
Amanda Maisels
Jesse Tampio
Brandon Storm
USDOJ Antitrust Division
Edwin Fleuriet
The Unemployed
Lorielle Pankey
Diane Hoffmann
University of Maryland School of Law
Melanie Dorsey
Najatt Ajarar
John Becker
Rocky Li
Beth Kaufman
Loren Voss
DoD
Larry Austin
StarWalker LLC
Will Stephens
Molly Silfen
Peter Trooboff
Covington & Burling LLP
Elizabeth Westfall
US Dept of Justice
Will Gunn
Melanie Dorsey
John Dey
William Greco
Kathleen Havener
The Cullen Law Firm PLLC
b thomas Mansbach
Russin & Vecchi LLP
Jerry Block
Venable LLP
Cynthia Palmer
Taimarie Adams
Charles N. Brower
International Court of Justice
John Buchman
Charles Schwab & Co., Inc.
Bob Lande
University of Baltimore Law School
Barry Coburn
Sheela Murthy
Murthy Law Firm
James May
Kathleen Kim
US SEC
Richard Hoffman
Maryland Crime Victims' Resource Center
Gary Sutton
jeff lepon
Charles Toy
57 Stars LLC
Ted Hochstadt
Ted Hochstadt
Geoffrey Cook
karen lee
Jerry Block
Venable LLP
Marilyn Muench
Ralph Petersberger
Taryn Fielder
Washington REIT
Chris Jochnick
Landesa
Stephanie Martin
Peter Tannenwald
retired attorney
Chris Jochnick
Landesa
Daniel Lynch
Venable LLP
Geoffrey Berman
Bob Perry
Lawrence Coshnear
Marian Lee
Gibson Dunn
Jack Friedenthal
Retired
D Johnson
Juan Garcia
Deloitte
Geoffrey Berman
Donald Lubick lubick
Juanita Hernandez
HLSA DC
Jacob Steiner
Sean Kanuck
EXEDEC International
Tirzah Gordon
Arianne de Govia
Donald lubick
US treasury retired
Tirzah Gordon
... a total of 133 guests.
Note: to opt out from this list please sign in, go to My Account and change your preferences under My RSVPs.

Contact us with questions at:
programming@washingtondc.hlsa.org
Click here to buy tickets!