The Feminist War on Crime:
The Unexpected Role of Women's Liberation
in Mass Incarceration
by Professor Aya Gruber (HLS '97)
Prof. Jeannie Suk Gersen (HLS '02)
Please join HLSA-DC for a Zoom book talk on Tuesday, February 23, 2021 at 6:30 PM (EST). Professor Aya Gruber ('97) will be in conversation with Jeannie Suk Gersen ('02), John H. Watson, Jr. Professor of Law at Harvard Law School.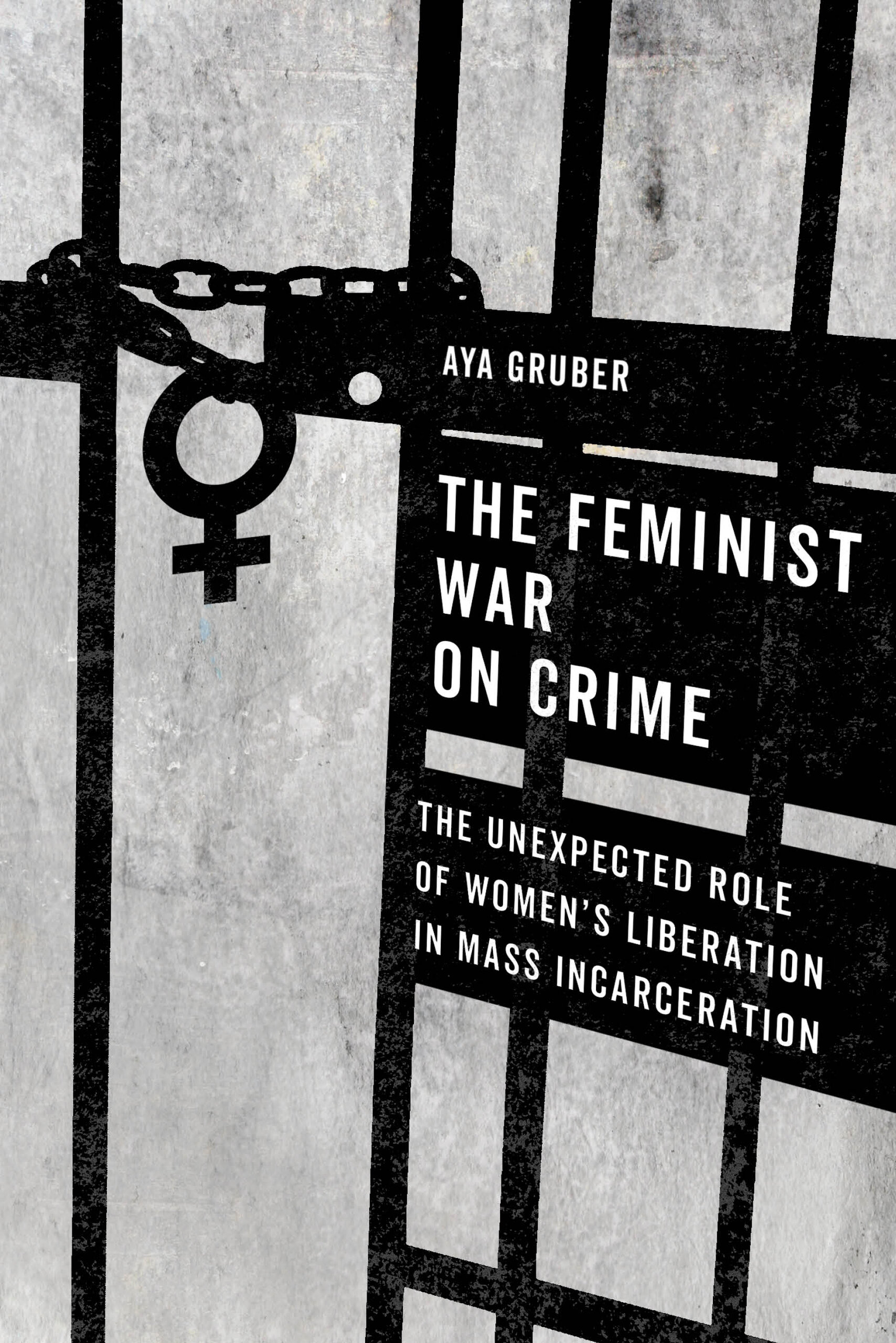 RSVPs are required for this free event. Please register using the form on the left side of the page. (And please double-check your email address; details for joining the Zoom discussion will be emailed to registrants.)
We invite you to read The Feminist War on Crime before our event. The book can be purchased at University of California Press (Save 30% with Code 19W5801), Amazon, Politics & Prose, or any local bookseller.
The Feminist War on Crime tells the fascinating story how feminists, in their quest to secure women's protection from domestic violence and rape, became soldiers in the war on crime and contributors to mass incarceration. It sketches a path forward for young women, activists, and lawmakers to oppose violence against women without reinforcing the American prison state.
Aya Gruber is a professor at the University of Colorado Law School, where she teaches criminal law, criminal procedure, and critical theory. As a lifelong feminist, a former public defender, a professor of criminal law for eighteen years, and a survivor, she has personally and professionally grappled with the issue of feminism's influence on criminal law for decades. With her book, The Feminist War on Crime, Gruber seeks to engage the new generation of energized feminists who care deeply about women's equality and ending mass incarceration. You can learn more about Professor Gruber and read excerpts from her book by visiting her website, https://www.ayagruber.com/.
Jeannie Suk Gersen is the John H. Watson, Jr. Professor of Law at Harvard Law School, where she has taught constitutional law, criminal law and procedure, family law, and the law of art, fashion, and the performing arts. Before joining the faculty in 2006, she served as a law clerk to Justice David Souter on the United States Supreme Court, and to Judge Harry Edwards on the U.S. Court of Appeals for the D.C. Circuit. She was educated at Yale (B.A. 1995), at Oxford (D.Phil 1999) where she was a Marshall Scholar, and at Harvard Law School (J.D. 2002), where she was a Paul & Daisy Soros Fellow. She has written three books and many articles in scholarly journals and general media. Her book, At Home in the Law, was awarded the Law and Society Association's Herbert Jacob Prize for the best law and society book of the year. She has been a Guggenheim Fellow and a recipient of Harvard Law School's Sacks-Freund Award for Teaching Excellence. She is a Contributing Writer to The New Yorker.
Please share with fellow HLS alumni within your social media and other networks.
RSVP Today...
When:
6:30PM - 8:00PM Tue 23 Feb 2021 ( Timezone: Eastern )

Virtual Event Instructions:
Login info will be mailed to participants in advance of the Zoom talk; please check the email address you used to register.
RSVP Here...
Look Who's Coming:
Janice Gorin
Federal Communications Commission
Cheryl Packwood
Karen King
Donna Chambers
Stan Barg
Atlantic Realty
Erika Brigantti Abraham
HLS
Marie Park
HLSA Board Member
Angela Davis
American University Washington College of Law
Raquel Aldana
UC Davis
Camille Brewer
Dino Wu
Andrew Byrnes
Melanie Dorsey
Valinda Jones
Evelyn Phillips
Zoila Hinson
Cheryl Packwood
Elvira Maria Restrepo
George Washignton University
Michelle Ki
M Sullivan
D Dangaran
Cheryl Packwood
Josh Toll
BRENNA ERFORD
Linda Millsaps
Self
Gillian McGann
Cheryl Packwood
Edward Tashman
Edward Tashman
Edward Tashman
Edward Tashman
Vanessa Lauber
Elizabeth Carr
Carolina Rabinowicz
Harvard Law School
Per Jebsen
Barbara Medrado
K&S
Mario Nguyen
Brent Gurney
WilmerHale
Marty Strauss
HLS
Adam Raviv
Samantha Nagler
Peter Fielding
Peter Fielding
Peter Fielding
Robin Solomon
Marie Park
HLSA-DC Board
Susan Hinely
Cynthia Totten
Just Detention International
Cynthia Totten
Just Detention International
Julie Grimes Waldorf
China Institute
Mark Robilotti
Emily Graham
Laura Scheuer
Kavya Naini
Laura Scheuer
Blair Ganson
US Courts
Harold Obstfeld
Harold B. Obstfeld, PC
Deborah Branch
Adrienne Bradley
Rachel Lamorte
Randall Jackson
Carole OBlenes
Proskauer Rose LLP
Kayla Southworth
Orrick
Jean Marie Brescia
Isabel Corngold
Mid-Atlantic Innocence Project
Sophia Khan
John Dey
Ropes & Gray LLP
Michael Guggenheim
Peter Fielding
Ria Mohammed-Davidson
Chambers of Mr. Rolston F. Nelson SC
Laura Hipple
Kristin Cabral
Robin Solomon
Derecka Purnell
Valinda Jones
Juanita Hernandez
self
Amelia Schmidt
Heather Hughes
Vaidya Gullapalli
Margarita Prieto
Philippa Greer
UN
Emily Mannheimer
Troy Brown
Roland D. Brooks and Associates, LLC
Chelsea Rooney
Jessica Pishko
Madeleine Matsui
Melanie Fontes
Marcela Abadia
Jep Colombia
Dylan Hosmer-Quint
Harvard Law School
Jane St
JSV
Shirin Purkayastha
Vera institute
John Longstreth
K&L Gates LLP
Shirin Purkayastha
Vera Institute
Rafael Gallardo Hevia
Ye-Bhit Hong
School of the Art Institute of Chicago
Samantha Lint
Cissy Purity
Joshua Lee
Avi Samarth
Al Scott
Samantha Lint
Avi Samarth
Jen Mueller
HLSA-DC
... a total of 103 guests.
Note: to opt out from this list please sign in, go to My Account and change your preferences under My RSVPs.

Contact us with questions at:
programming@washingtondc.hlsa.org